Dear readers of my blog,
I'm moving on. Drawing is great, but lately I found it tedious and… well tedious. And I'm barely making it economically doing comics. Time to make a change. So I emptied my little corner in the Malmö Comics Studio and left for Denmark.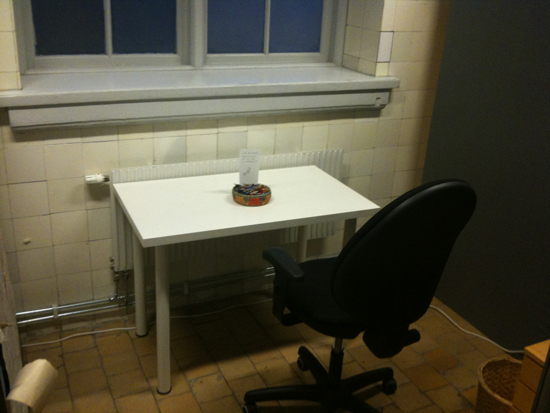 I have to admit it looks VERY empty. Hopefully this will make my colleagues rush to find a replacement cartoonist for me, so I don't have to pay for an empty place, like I'm doing at the moment.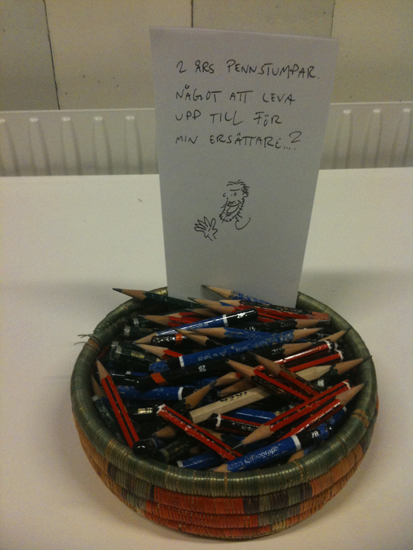 Just to give you an idea of the amount of led that goes into cartooning. These are pencil leftovers from my two years in the studio, Actually there were more, I just left this neat little basket for my succesor to have something to live up to.
So I started this course in Viborg, Denmark in 3D animation. The downside is that I have to stay at the school (since it's 5,5 hours away) and be away from my baby faaar too long. The good part is there isn't much else to do than school work.
The first week has been frustrating beyond belief. Learning Maya when you've never used a 3D program before is like learning how to walk again. And I had forgotten how hard it is to learn to walk!
Speaking about tedious, when I mentioned I found drawing tedious, apparently so did the stop motion animators find stop motion tedious, just as the 3D teacher found 3D animation tedious. I guess the work we do in this business is tedious by nature. It's just different types of tedious. But we always admire what others do (especially if it's in another media or technique than the one we're in ourselves). That's just the way we are. By the way, those stop motion animators, three guys from Britain, just happen to be fresh out of animation work on Fantastic Mr Fox. How cool is that?
Here are some snapshots from my first trembling steps in Maya modelling: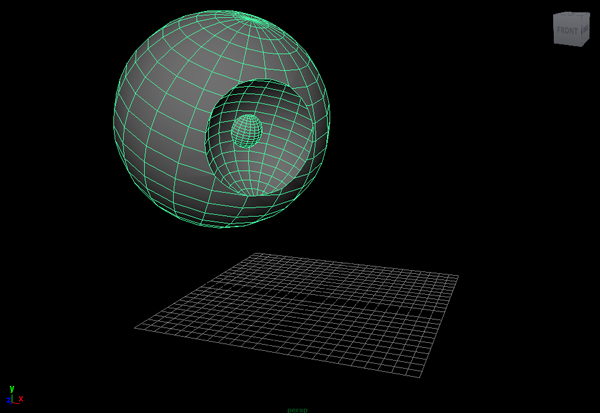 Some kind of Death Star. I always wanted to make one of those.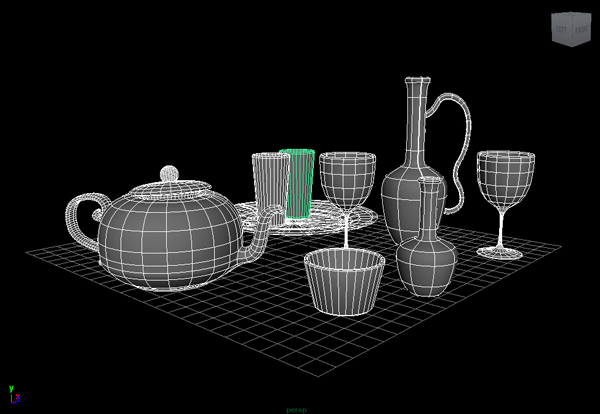 Right now we're doing a two week introduction course in modelling. Later on we will focus on animating already made models, so we're not required to be experts in modelling. But it's good to have an understanding of the basics. I can't tell you how many times and in how many ways I managed to screw things up before managing to gather these objects onto the grid.
The main task of week 1 has been to create a Lego character. We've talked about polygons and curves and millions of tools and drop down menus. Today we've worked with UV mapping (attaching a skin or texture to the objects), which I found incredibly difficult. There is still quite some distance before I become friends with Maya. However, it definately seems to be a powerful program once you get some control over it.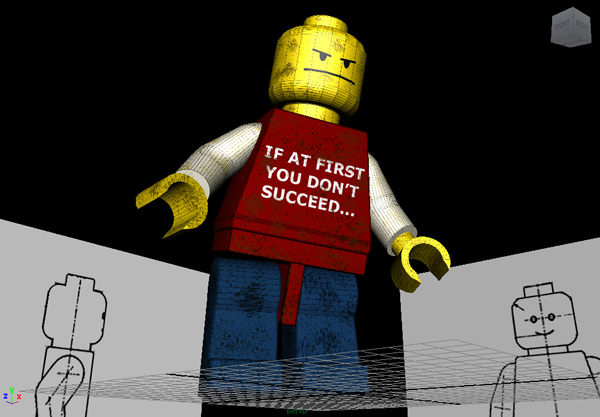 Frustration, irritation and anger will lead to the dark side?

-AAAAAAAAAAAARGH!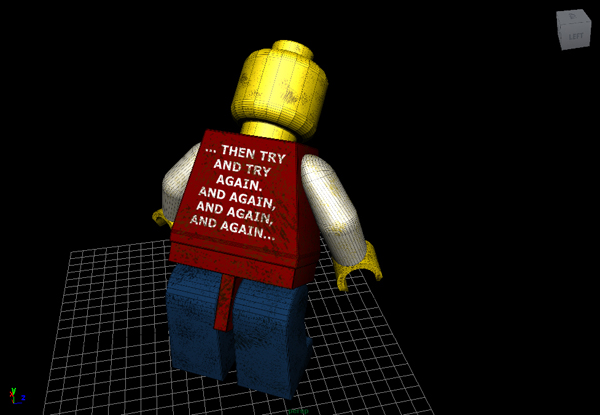 So many times during this week I have felt like giving up and cry…
…BUT. I didn't. These pictures indicate at least some progress. Not that I'm sure how I actually made these, and if I would be able to make them again. But hey, they're there. We-hey! Tomorrow we'll talk about lightening our models. Can hardly wait to go into frustration mode again…