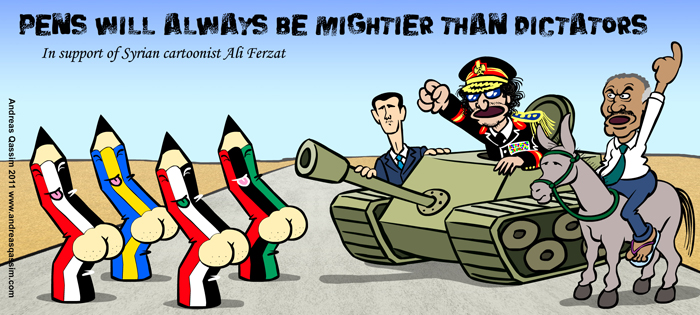 "On August 25 2011, Syrian cartoonist Ali Ferzat was beaten by regime security forces for his system critic editorial drawings against the country's president Bashar al-Assad. His hands and fingers were broken by his assailants, as a warning not to "draw against his masters", before he was thrown by the wayside to be found by passers-by.
This kind of oppression and scare tactics is unacceptable to us as cartoonists, and with this project we want to show the despots of the world that if you break one artist's hands, a thousand will rise in his place. We call upon cartoonists of every creed and nationality to produce works celebrating the freedom of expression, opposition to censorship, and in support of Ali Ferzat."
The excerpt is taken from the site One Thousand Ferzats. If you're a cartoonist and freedom of expression is important to you, I urge you to participate. Let's collect a thousand drawings to show that pens will always be mightier than dictators. Yes Saleh, that goes for you too.
And while you're at it, make sure to check out the archive with so many great cartoons from all over the world in support of Ferzat.