Got this diploma recently. Gotta say I'm damn proud of it!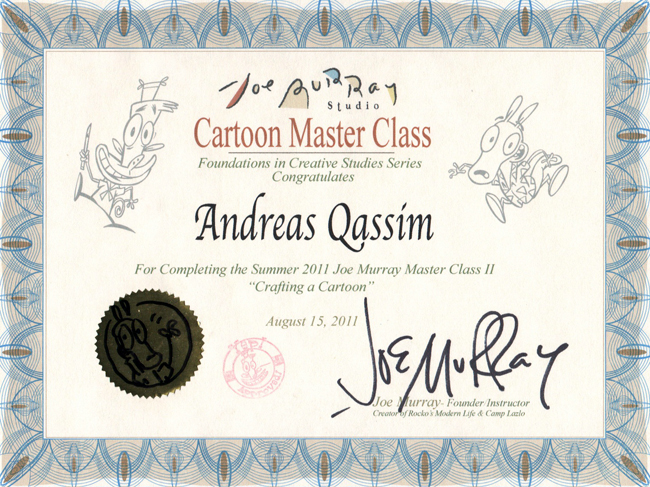 It's the end result of a chain of events starting with me stumbling upon Joe Murray's book Creating Animated Cartoons with Character in my local art store. Joe Murray is the creator of the cult series Rocko's Modern Life (Nickelodeon) and Camp Lazlo (Cartoon network). Coincidence or fate, it was just the book I needed at that moment. It's about how to develop your own cartoon. I was already a fan of Joe's drawing style, and I was very inspired by his book. Many how-to books that are supposed to be inspiring leave you rather discouraged. "I'll never be able to do that". This book however painted nothing but pictures of possibilities.
I looked up Joe Murray on the internet and found that he gave online courses on the same subject, as a kind of continuation of the book. Freelance commissions were on an all time low the summer of 2011, so I signed up.
During the course I learned to have fun again with drawing. It started with simple doodling, something I had almost stopped doing. From there we went into developing characters, creating a "hook", building a world around the characters, writing stories, and finally storyboarding a cartoon. Each week of the course I had a Skype session with Joe discussing the work. Here's a sample of what I did: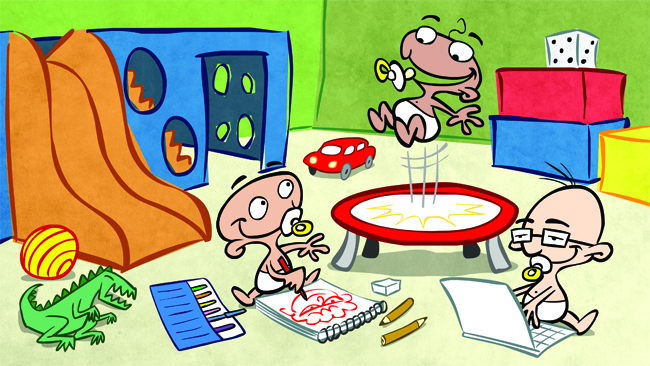 ⓒ Andreas Qassim
I'm currently developing this project, so I can't tell you much more at the moment. Hopefully it'll turn into something someday.
If you're like me and spent most of your professional cartooning years illustrating other people's stuff, while all you really wanted was doing your thing, but for one reason or another you never got around to doing it, I can highly recommend Joe's book and his courses. Joe's such a nice and inspiring guy! I'm not sure if he does the courses anymore, but the book is still there.