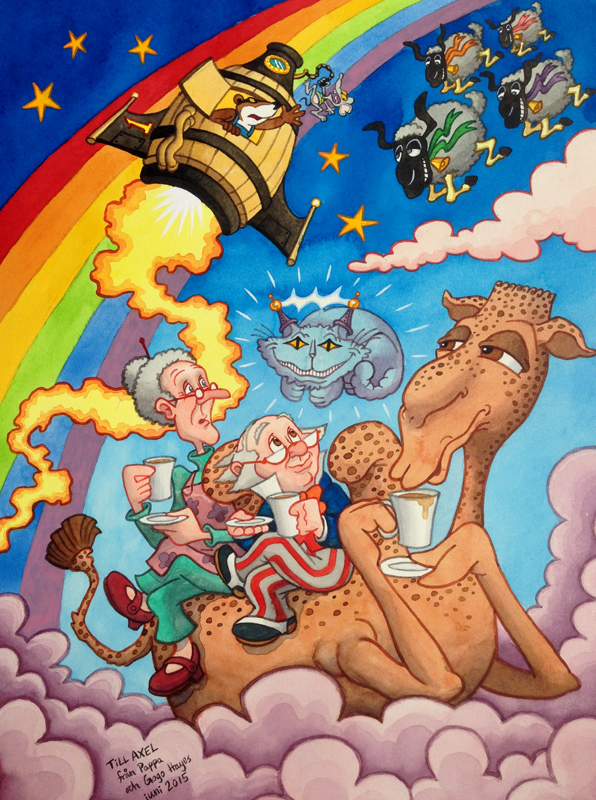 We're currently waiting for our second child. Our first born is now 2,5 years. I wanted to give him something special as a token of my appreciation of being his father. I was on parental leave with him from when he was 1 to ca. 1,5. During that time we started watching Dr Snuggles, a childhood favorite of mine created by Jeffrey O'Kelly and Nick Price, on DVD. At first it was a bit much for him to digest, but gradually he got into it, and then for some months he didn't want to watch anything else. Sometimes several times a day, and he'd talk constantly about these strange stories and characters. There are only 13 episodes all together, so the family kind of know them by heart now. He used to call Dr Snuggles "Gogo Hayes" back then. I thought I'd make a painting for him, to remember the good times we spent together in that weird and magical world. Above you can see the end result. If you're interested, here's how it was made.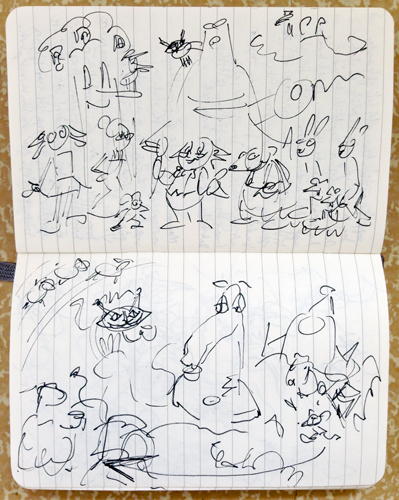 I usually start with doodles in my sketchbook.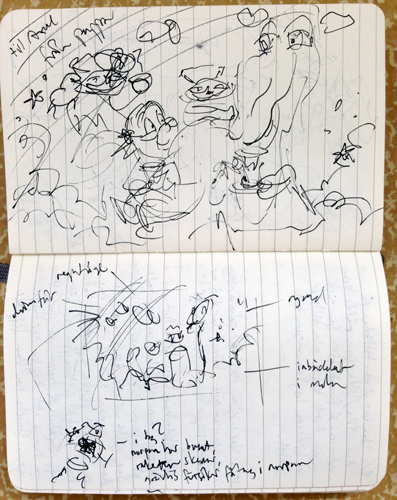 I always loved the spotted camel Woogie (Puckli), sitting in the clouds sipping his tea, so I decided to set the scene there.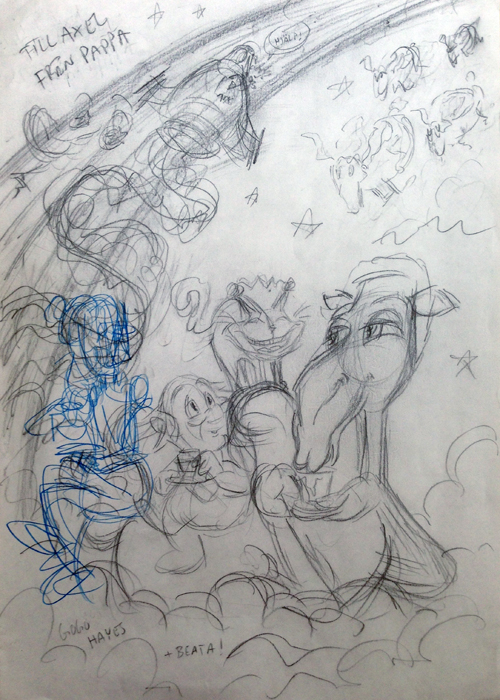 The preliminary sketch (A4). I decided late on to include Miss Nettles (Beata).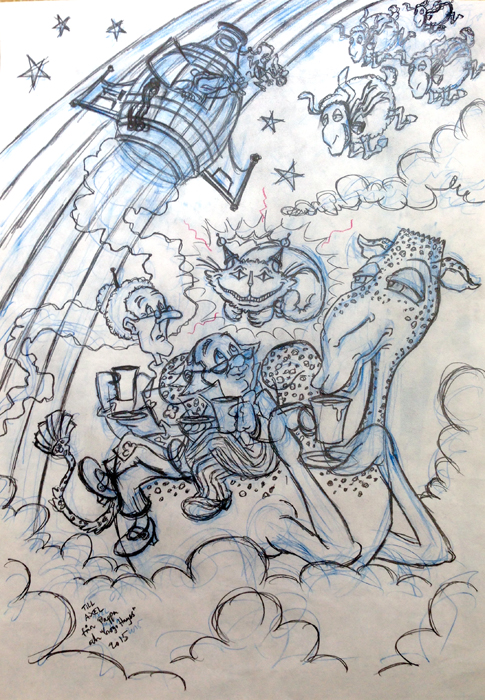 The final sketch before moving on to painting.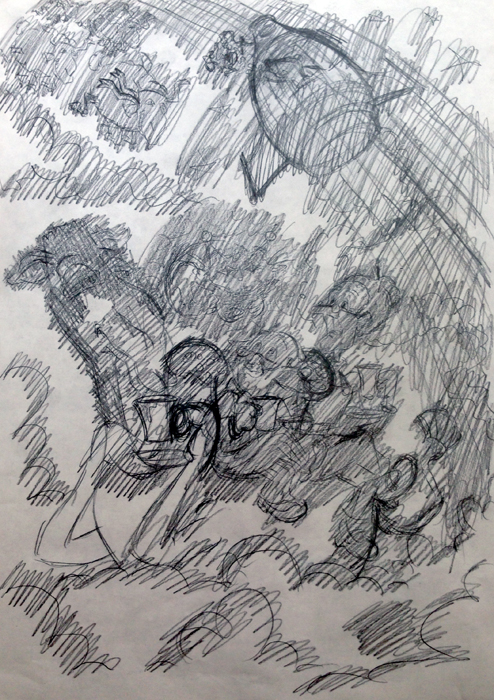 To get the sketch onto water color paper, I pencilled the backside, then put the sketch on top of the water color paper, retracing the lines on the front. Probably a stupid way of doing it, but at least it worked.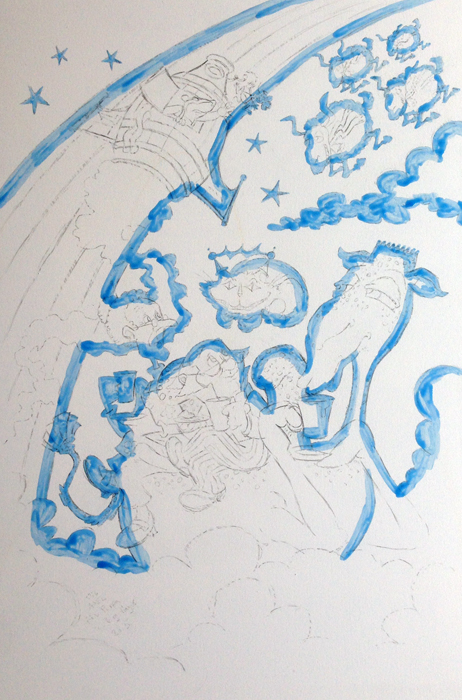 First thing I did was covering the details with masking fluid.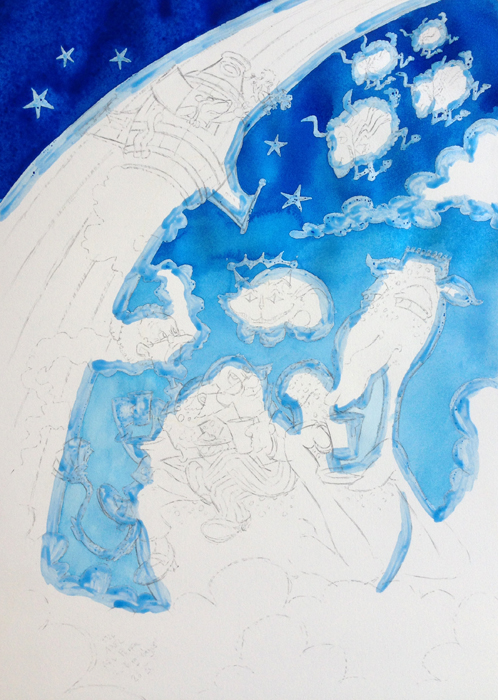 Aided by masking fluid you can make nice gradient skies, not having to worry about the detailed elements. Turned out far from perfect as you can see. But that's one of the things I enjoy with water color. Not being fully in control. There's an element of "it is what it is".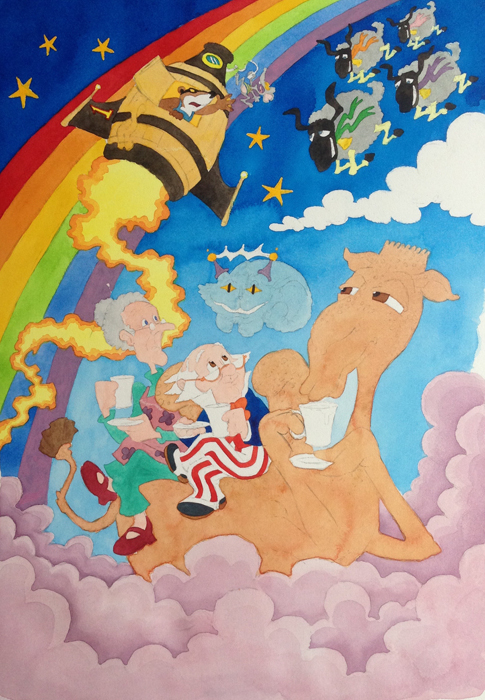 Applying flat fields of color. When doing water color you start with the lightest parts, then gradually going darker. I guess that's the opposite of what you would do with acrylics or oil, but since I'm not a painter I wouldn't know really.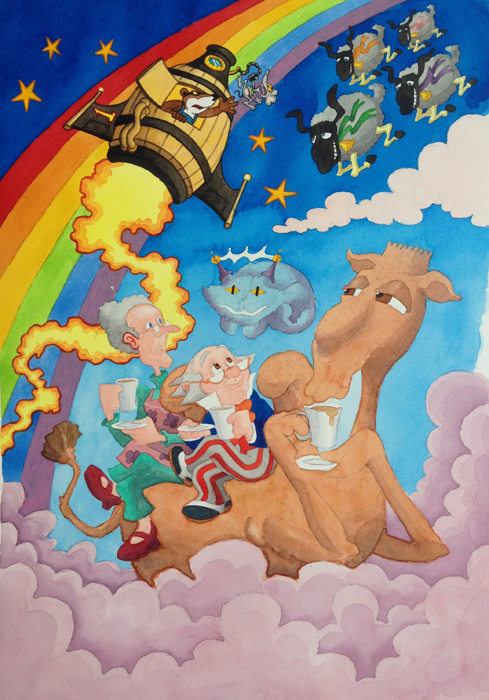 Started adding shades and tones. With this painting I wanted to step away from my usual minimalistic ideals and make something more lavish. That's quite a challenge with water colors which usually lend themselves to kind of light renderings. I started with the rocket Dreamy Boom Boom (Sprutti Bang-Bang) to work out the level of "spiciness".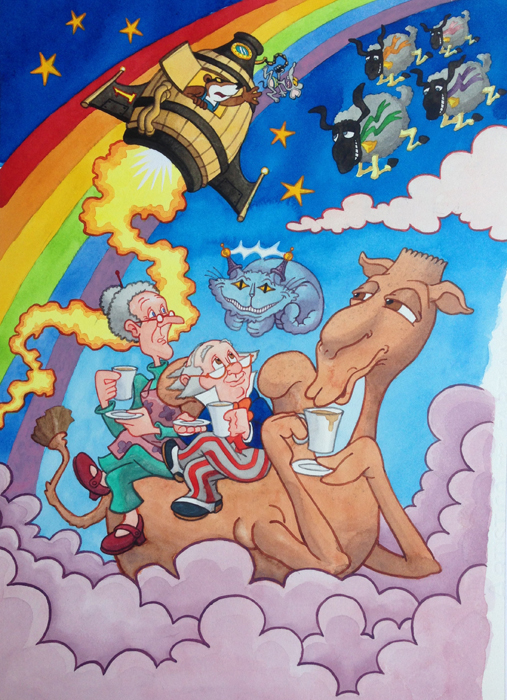 Added colored outlines to the main components. That's not really "painting", but the idea was that it would force me to go even more "spicy" with the shading and tones, i.e. try to bring the shading so close to the opaqueness of the outline that you wouldn't really think about the outline.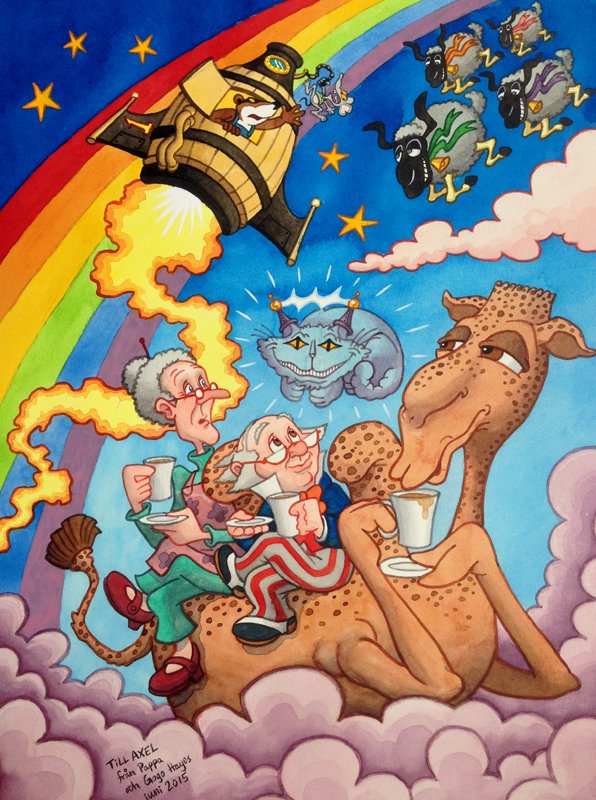 I went over it again and again until I ended up with this and decided that's it. Like any creative work you're never really "done", you just have to decide when to stop. The white spikes underneath Dreamy Boom Boom as well as the lines around the Cosmic Cat are gouache. The rest is pure water color.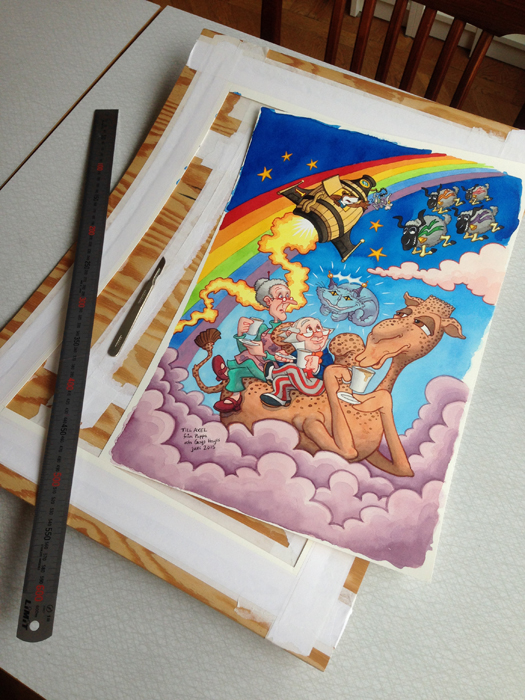 When doing watercolors you really benefit from mounting the paper properly on a board. That way you avoid buckling from the water, which can make the paint/water gather in pools where you don't want them to. My favorite part of water color painting is when you get to cut it off from the board, and you end up with a flat paper.
My son discovered the finished painting in my home office. Big eyes. He clearly recognized these guys, but he got a bit shy and didn't want to say who they were (usually he talks a lot about them). He wanted to touch the characters, which he wasn't allowed to (water color is sensitive to moisture). Still I thought of that as a good sign. Like he wanted to pick them out of the picture and play with them. The painting is currently at the frame shop waiting to get mounted. I hope it will be a treasured item for him.
I guess this means I'll have to make something similar for his sibling. This one only took me a week, and I'm going to have sooo much time from now on…