This spring's main thematic concert for Bobbe Big Band is a blues and gospel concert fronted by guest saxophone soloist Fredrik Kronkvist and our faithful solo singer Ulrika Orre. Blues and gospel are closely related genres, like two sides of the same coin, so it'll be interesting exploring the two back to back.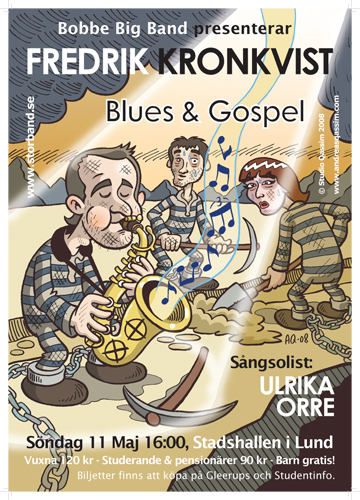 This time we've rented the city hall of Lund to try to get away of people thinking we're a "student band", wich we're not, actually. I made this poster to try to sell as many tickets as possible (and we really need to, to be able to pay the rent of the hall). Unfortunately I was too crap at the Adobe CS programs to make it really high resolution. It looks better on screen than in print, but there you go. I'll try to do better next time.
I want to wish each and everyone of you out there a warm welcome to this very special concert at May 11, 1600 hours. I will hardly be able to play myself since I'll be busy studying the golden tones of Fredrik Kronkvist's amazing solo playing…
Check out http://www.fredrikkronkvist.com/movie_NEW3.html if you want to know more about this excellent musician.